Pre-Arrival
Usually arrives from France in 1-6 months
• Domaine: Clos du Clocher
• Appellation: Pomerol
• Origin: Right Bank, Pomerol, Bordeaux
• Importer: Laguna Cellar
There are certain properties that are considered favorites of wine industry insiders and Clos du Clocher would be one of them. This Pomerol estate is home to some truly extraordinary terroir and some exceptional neighbors. The cult producer Le Pin is down the road from this 4.6-hectare estate. One cannot help but wonder why an estate with a combination of factors including a talented winemaking team and the same terroirs as legends like Château Pétrus is still so affordably priced. Still, we're not complaining. It might be considered prudent for industry insiders to zealously guard the secrets of this property, so it remains such a screaming value. Yet with that in consideration, we don't mind sharing that privileged bit of information with our valued customers at Laguna Cellar. Clos du Clocher is well worth the buy, and who knows how long it will be before the secret of this estate gets out.
Clos du Clocher is still a young estate and is a little under a century old. The property was founded in 1924 by Jean Baptiste Audy, who purchased one small plot of vines near the church of Pomerol. Jean Baptiste Audy was no stranger to the wine trade; he was a négociant (wine merchant) before he added this property to his extensive holdings. The estate is currently managed by Jean Baptiste Audy's descendant, Jean Baptiste Bourotte. The family still owns the original négociant company in the city of Libourne, the business center of the Right Bank. Since 2009, production levels have been steadily mounting in terms of critical acclaim, yet price remains very reasonable.
Clos du Clocher is known for its iron rich terroir that is home to plantings of Merlot and Cabernet Franc. The vignerons at the estate compare the terroir to Château Pétrus, because the soil composition is similar. Elevation here is a bit higher. The majority of the vines are an average of 25 years old, and some of the oldest vines date back to 1957. Everything is harvested and tended to by hand, and there is a very rigorous selection process for the grand vin at Clos du Clocher. Michel Rolland has been hired as the consultant at Clos du Clocher and in 2010 the estate underwent extensive renovations. At this time, the cellar has been renovated and some of the most cutting-edge technology implemented at the estate. Clos du Clocher practices a process called micro-vinification with a small percentage of their vines, by vinifying them in 100% French Oak. Though a lot of wines out of Pomerol are appreciated because of their accessibility, Clos du Clocher needs a little bit of time in bottle before it can fully develop. This tremendous potential for ageing is what makes it not just a good wine, but a great one. One can expect these wines to reach their optimum expression after 3 to 5 years in bottle, though that does vary depending on the character of the wine.
In order to fully understand the promise of the terroir at Clos du Clocher, one has to take into consideration where the vines are growing on the Pomerol plateau. The map shows in red where the plots of this outstanding property are located, sharing some top-notch terroir with luminous neighbors who need no introduction.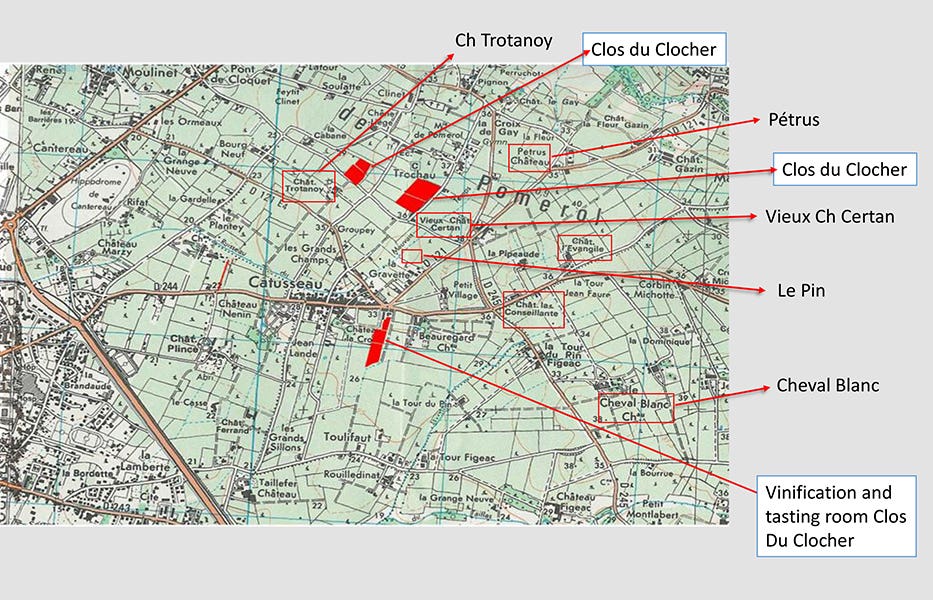 Tasting Notes
"Deep garnet-purple in color, the 2019 Clos du Clocher needs a little coaxing to reveal subtle scents of black raspberries, kirsch and wild blueberries, before a drop-dead gorgeous perfume of candied violets, cinnamon stick, clove oil, Darjeeling tea and star anise take center stage. The medium to full-bodied palate is very finely knit, with ripe, plush tannins and seamless freshness supporting the elegant flavors, finishing long and fragrant." Lisa Perotti-Brown, June 2020 Week 3: The Wine Advocate (06/17/2020) Rating: 93-95
More Information

| | |
| --- | --- |
| Brand | Clos du Clocher |
| Shipping Weight | 3.000000 |
| Appellation | Pomerol |
| Stock Status | Pre-Arrival |