Special Price
$64.95
Average US Price
$73.95
Futures
Wine is usually aged for 12-18 months in the barrels before bottling. Delivery dates depend on the bottling schedule.
Clos du Clocher is a hidden gem in Pomerol. It was first acquired in 1924 by Jean Baptiste Audy, a negociant in nearby Libourne. In the decades that followed, the Audy family added more plots of land to their holdings. The estate is currently managed by Jean Baptiste Audy's descendant, Jean Baptiste Bourotte.
Pomerol is a tight-knit and compact village on the Right Bank. The namesake appellation is the smallest in Bordeaux. Unlike other appellations, there has been little chance for extension or expansion in Pomerol. That is partly to explain why Pomerol produces some of Bordeaux's most expensive wine (Pétrus, Le Pin, to name two). It has a minuscule 800 hectares and 135 growers. The village does not have a traditional center, nor any magnificent chateaux. The only landmark is the church on the plateau. Hence many estates in Pomerol are named with references to eglise (the church) and clocher (the bell tower). Paradoxically, Pomerol produces some of Bordeaux's most expensive wine.
The highest quality plots are on the Pomerol plateau, a largely flat area 35-37 metres high in altitude. The owner of Petrus, Moueix family, defines any land above 30 metres as "high plateau", which is the most sought-after plots in Pomerol. That is where Clos du Clocher's largest plot is found. It is located by the church, which is the center of the prime plateau of Pomerol. Neighboring estates include Hosanna, Vieux Chateau Certan. Clos du Clocher's other sizeable land holding is located next to Château Trotanoy.
Blue clay, the prized soil known for its iron rich quality, is found on Clos du Clocher's land. It defines its terroir that is home to early ripening Merlot, and Cabernet Franc. The majority of their vines are on average 25 years old, with some oldest vines 60 years old, dating back to 1957. Everything is harvested by hand, and there is a very rigorous selection process.
Many Pomerol wines are made from early ripening merlot and approachable when young, Clos du Clocher almost always has 25% of Cabernet Franc in its wine, which requires more ageing in bottle before it can fully develop. The resulting wine can age for 20 years or longer.
Considering its overall quality and potential, we believe Clos du Clocher is a rare find among Pomerol that is still undervalued. For collectors who want to let the wine age, we recommend these vintages: 2015, 2016, 2018, 2019, 2020.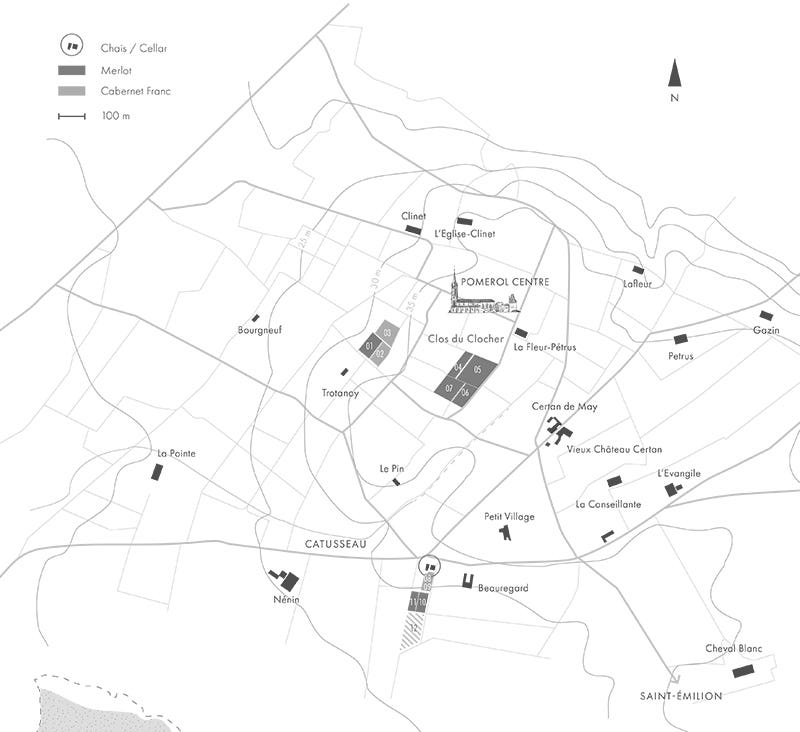 Tasting Notes
"A stunning wine in 2022 showcasing star power in Pomerol and delivering one of the appellation's clear successes. Beautifully fragrant on the nose, fresh and ripe black fruits, purple flowers, milk chocolate, salty stones and liquorice. Smooth, sumptuous and seductive in terms of texture - tannins are beautifully chalky and so well integrated - almost effortlessly supporting the concentrated fruit and giving the confident structure. Focussed and detailed but not tight or tense, really quite a special effort. Energy and mouthwatering acidity is in the background but it's the texture that's most captivating, velvety, chalky, ripe, fleshy and refined all at once. It manages to be understated in a year where it was easy to be anything but. I love it. 3.6pH. A yield of 39hl/ha. Harvest started on 7 September. Soft extraction with natural yeasts for fermentation. Ageing 55-60% oak barrels, 30% one wine barrels, and 7% in small concrete tanks and wine globes. Second year of organic conversion. Next year, 2024, Clos du Clocher will celebrate its 100 year anniversary having been founded by Jean-Baptiste Audy in 1924." - Georgina Hindle, Decanter (4/17/2023) Ratings: 97, Drink: 2028-2050
"Helped by old vine Cabernet Franc that dates back to 1957, this is full of wonderfully dark damson fruits, shot thorugh with mint leaf cooling complexity. Velvety tannins, crushed rose petals, supple and enticing. This is a brilliant wine, really pulls away from many in the appellation. The tannins are very much present right at the front of the palate, and then they form an arch, that allows the fruit underneath. Natural yeasts, very little oxygen, low sulphur additions, a wine for the ages. Once again Clos du Clocher shows why it deserves to be at the top table in Pomerol. 60% new barrels, 30% one year old barrels, 10% small vats (glass and concrete). Organic conversion. 2024 will be 100 years in the family, so this is 98th anniversary." - Jane Anson, Bordeaux Insider (4/14/2023) Ratings: 97, Drink: 2030-2048
"A blend of 70% Merlot and 30% Cabernet Franc, the 2022 Clos du Clocher has a pH of 3.6 and is vinified with natural yeast. It has a deep garnet-purple color and soars from the glass with vibrant notes of wild blueberries, fresh black raspberries, and orange peel, followed by suggestions of Indian spices, cedar chest, and lavender. The full-bodied palate is taut, tightly wound, and muscular, featuring ripe, rounded tannins and seamless freshness, finishing long and fragrant. Beautifully done! - Lisa Perrotti-Brown, The Wine Independent (6/2023) Ratings: 94-96
"The 2022 Clos du Clocher was picked on 7 September and matured in 55% new oak. This has a fragrant, pure bouquet with blueberry, cassis and violet scents. There's lovely definition here, and the oak is neatly integrated. The palate is medium-bodied with a velvety smooth entry. Concentrated but well-balanced, the gentle grip on the finish lingers in the mouth. This is a classy Pomerol from "JB" and his team." - Neal Martin, Vinous (6/2023) Rating: 93-95
More Information

| | |
| --- | --- |
| Stock Status | Futures |
| Appellation | Pomerol |
| Vintage | 2022 |
| Brand | Clos du Clocher |
| Shipping Weight | 3.000000 |
We found other products you might like!