Château Leoville Poyferre 2018
Special Price
$134.95
Average US Price
$173.00
In Stock
Usually ships in 2-5 days, weather permitting
• Domaine: Château Léoville Poyferré
• Appellation: Saint-Julien
• Classification: Second Growth, 2ème Grand Cru Classé
• Origin: Left Bank, Bordeaux, France
Ranked #7 on Wine Spectator Top 100 Wine List of 2021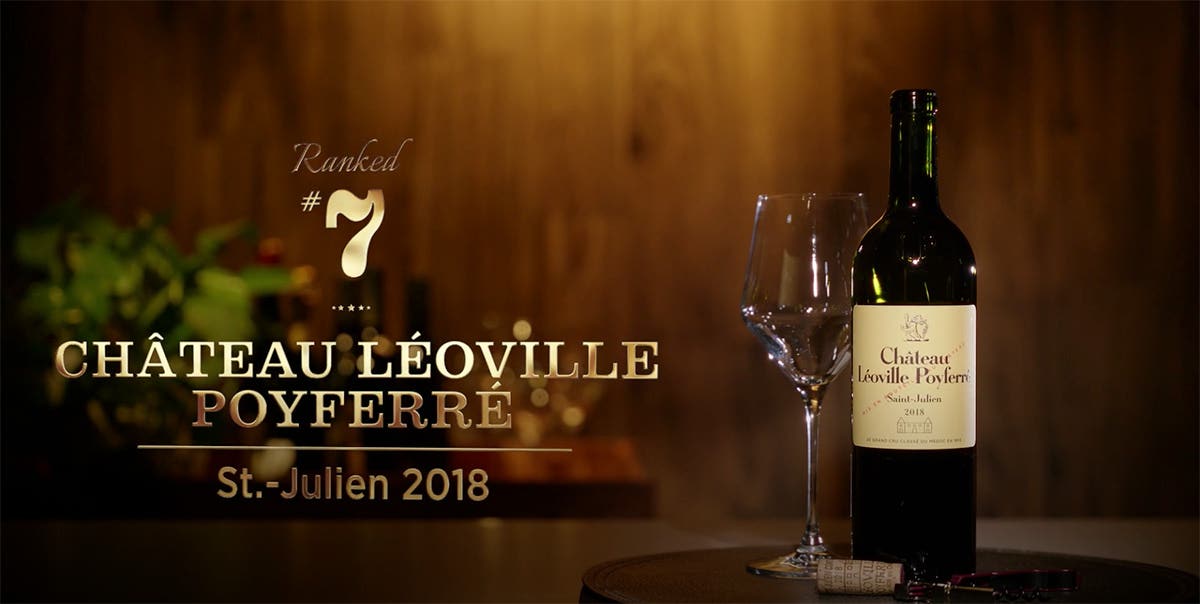 At Château Léoville Poyferré the motto is, "The essential is invisible to the eye." This esteemed Saint-Julien producer does not believe in the extreme pomp and circumstance of an over-the-top château. Instead, they believe that true opulence stems from their winemaking team, terroir, and their classically luxurious wines.
This Second Growth Estate has arguably some of the best terroir and is capable of producing some of the most striking wines in Saint-Julien. Prior to its inception in 1840, Château Léoville Poyferré was a small portion of the vastly enormous Léoville Estate. Château Léoville was a leader in terms of viticultural innovation. They allowed for grapes to produce smaller berries which would inevitably yield a richer, more concentrated wine. They trellised their grapes with pinewood – something that was considered revolutionary at the time. They also were among the first to age their wine in oak barrels and clean them with a sulfur solution. These may not seem like major breakthrough ideas in our current era, but in the 1800s they were considered revolutionary.
Eventually after the French Revolution, the massive Léoville Estate was parceled off into Château Léoville Las Cases, Château Léoville Barton and Château Léoville Poyferré. Funnily enough, all three estates still share the same parking lot, and the buildings remain connected – just as they were centuries ago. Château Léoville Poyferré was acquired by Jeanne-Marie Poyferré de Ceres. After a period of turbulence, the estate was purchased by the Cuvelier family in the 1920s and that's when Château Léoville Poyferré rose to prominence. The Cuvelier family had a strong history as négociants, and purchased other successful estates including Château Le Crock in 1903. In 1979 Didier Cuvelier became the cellar master and took the estate to new heights by implementing a 19-year program to replant the vineyards. Didier doubled the vineyard from 48 hectares to what it is today, 80 hectares. The estate is currently managed by his highly gifted niece, Sara Lecompte Cuvelier.
One might think that with such a "no frills" ethos, the team at Léoville Poyferré may not prioritize having some of the most innovative technology. This is not the case, and though they are about simplicity, Château Léoville Poyferré vehemently embraces new winemaking technology. In 2010 Léoville Poyferré renovated their vat rooms with a state-of-the-art underground pipe system to delicately transfer the wine from the tanks to the barrels. Prior to this ingenious system, the wine was moved by hand and tractors.
Like any great visionary estate, the team at Château Léoville Poyferré also takes immense pride in sustainability and producing their wines with great responsibility. Château Léoville Poyferré proudly carries a High Environmental Value (HEV) score of 3. They are also members of the Environmental Management System of the Interprofessional Council of Bordeaux Wine. The wines they produce are beautiful and elegant, favoring Cabernet Sauvignon with smaller additions of Merlot, Petit Verdot and Cabernet Franc. Because of their increasing quality with each passing vintage, Château Léoville Poyferré is a producer that should be on everyone's radar.
Tasting Notes
"Every bit as good as the 2009, and I think better than the 2010 and 2016, the 2018 Château Léoville Poyferré is a total thrill that tops out my scale. Based on 64% Cabernet Sauvignon, 30% Merlot and the rest Cabernet Franc and Petit Verdot, its dense purple hue is followed by an incredible, full-bodied monster of a wine that, despite massive amounts of fruit, tannins, and extract, still stays weightless and etherial, with incredible purity. Loaded with notions of crème de cassis, spring flowers, tobacco, violets, charcoal, and cedar pencil, it's extraordinarily concentrated, flawlessly balanced, and has a finish that won't quit. This is a legendary wine in the making. Give bottles 7-8 years, a decade would be even better, and it will keep for 40-50 years. Hats off to the Cuvelier family for another extraordinary wine!" - Jeb Dunnuck (3/2021) Rating: 100
"A blend of 64% Cabernet Sauvignon, 30% Merlot, 3% Petit Verdot and 3% Cabernet Franc, aged in 80% new oak barriques, the 2018 Léoville Poyferré comes bounding out of the glass with exuberant scents of Morello cherries, plum preserves and blackberry pie, giving way to nuances of cedar chest, unsmoked cigars, vanilla pod and sassafras, plus a waft of crushed rocks. The palate is full-bodied, rich and decadent, delivering hedonic black fruits and lots of spicy accents with a velvety texture and seamless freshness, finishing long and satisfyingly savory. This is a very impressive showing that is delicious out of the gate but has the backbone to give a good 30 years or more of pleasure." - Lisa Perrotti-Brown, The Wine Advocate (3/31/2021), Ratings: 97, Drink: 2024-2054
"Léoville-Poyferré is sensational in 2018. There's not much more to say than that. A wine of explosive power and intensity, the 2018 dazzles from start to finish. To be sure, the 2018 is racy and opulent, but all the elements come together so effortlessly. Bright red-toned fruit, mocha, pine and wild flowers all open with a bit of coaxing. The new oak is a bit prominent at this stage, but that will be less of an issue over time." - Antonio Galloni, vinous (3/2021), Ratings: 97, Drink: 2028-2043
More Information

| | |
| --- | --- |
| Stock Status | In Stock |
| Appellation | Saint-Julien |
| Vintage | 2018 |
| Brand | Chateau Leoville Poyferre |
| Shipping Weight | 3.000000 |
We found other products you might like!