Futures
Wine is usually aged for 12-18 months in the barrels before bottling. Delivery dates depend on the bottling schedule.
Nestled in the prestigious Saint-Émilion appellation, Château Berliquet is one of the oldest estates located on the limestone plateau just outside the town, right next to Château Canon (see map below). In the past decade, both properties were bought by the fashion house, Chanel, to form its wine portfolio. The other famous name also owned by Chanel is the Left Bank property, Château Ranzan-Ségla.
In recent years, under the watchful management of the talented winemaking team headed by estate director Nicolas Audebert, all three wine estates have achieved the highest quality and recognition in their respective histories. Before assuming the role at the Chanel wine estates, Nicolas Audebert worked at Moët & Chandon, Krug, and Veuve Clicquot champagne houses. He then headed winemaking at Cheval des Andes in Argentina, the joint venture project between Château Chavel Blanc and Terrazas de Los Andes.
Château Berliquet is a symbol of elegance and tradition. Its vineyards, covering 9 hectares, are strategically located on the renowned clay-limestone plateau, enjoying an ideal south-facing exposure that captures the essence of the region's terroir. This historic estate has a rich heritage dating back centuries, contributing to its esteemed reputation.
Under the dedicated ownership of the Chanel Group since 2017, Château Berliquet has undergone a remarkable transformation. The Chanel fashion house, known for its commitment to craftsmanship and luxury, has brought its visionary approach to the estate. With meticulous attention to detail and deep respect for the estate's legacy, they have reinvigorated the vineyards and implemented sustainable viticultural practices.
At the helm of Château Berliquet, the talented team led by estate director Nicolas Audebert has embraced a philosophy combining tradition and innovation. He is also the head of nearby Château Canon. By working closely with the land, they strive to create wines that express the vineyard's unique character while pushing the boundaries of excellence. Collaborations with renowned oenologists and state-of-the-art winemaking techniques have further elevated the quality and finesse of the wines.
As a testament to the estate's evolution, Château Berliquet proudly unveils its new visual identity, capturing the essence of its rich heritage and embracing a modern aesthetic. The label reflects the timeless elegance and sophistication of the estate's wines. This visual transformation symbolizes the estate's commitment to pushing boundaries while staying true to its roots.
With each vintage, Château Berliquet showcases the unique expression of its terroir, offering a sensory journey that captures the essence of Saint-Émilion. The wines, characterized by their finesse, balance, and complexity, captivate wine enthusiasts worldwide. As Château Berliquet continues to write its story, it remains a beacon of excellence, perpetuating the legacy of this esteemed estate and cementing its place among the finest wines of Saint-Émilion.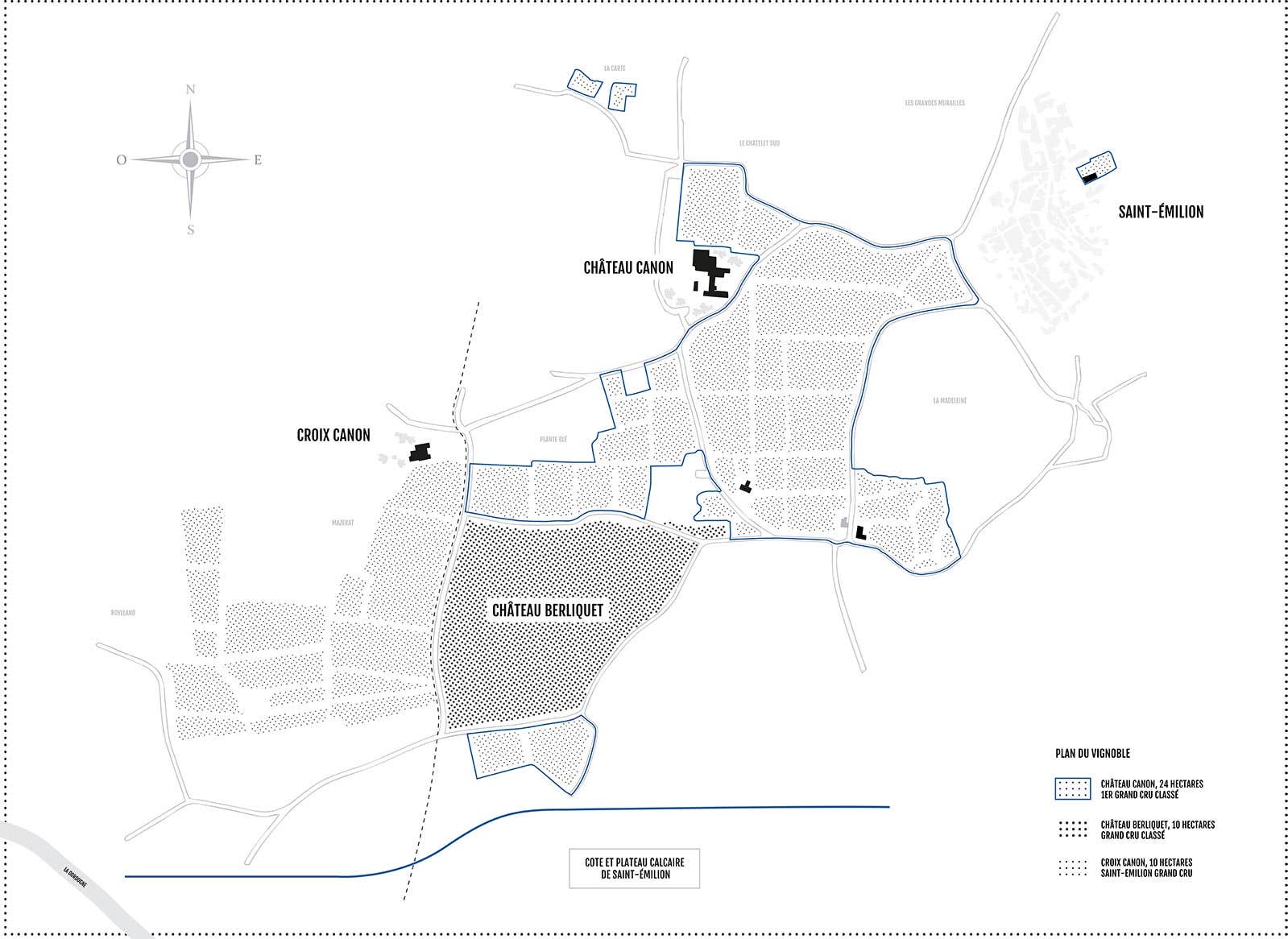 Wine Notes by Château Berliquet
Initially floral on the nose. Centifolia rose joins forces with blackberry and is emboldened by its fruitiness, allowing the depth of the vintage to shine through. Both have their thorns, offering up a wild touch, then rounding out into gourmand notes. The aromas continue to gain in intensity as the wine is aerated. The fruit is red with a touch of liquorice. On the palate the wine is fleshy and beautifully textured, skilfully enhancing its density. The finish boasts a limestone framework, delicately saline and above all very lingering. Bewitching.
Tasting Notes
"Candied cherries, tapenade, violets, and floral notes all emerge from the 2022 Château Berliquet, a medium to full-bodied, seamless Saint-Emilion that brings plenty of ripeness while staying nicely balanced, light on its feet, and elegant. Based on 65% Merlot and 35% Cabernet Franc, from yields of 31.2 hectoliter per hectare, it will spend 16 months in 44% new French oak, with a portion of the blend aged in amphora. This isn't the most powerful or opulent wine in the vintage, but it's as seamless and graceful as they come." - Jeb Dunnuck (5/2023), Ratings: 94-96
"The 2022 Berliquet is brilliant, bursting with aromas of plums, wild berries and lilac, followed by a medium to full-bodied, concentrated and vibrant palate that's deep and mineral. It's likely to be another of the vintage's more attractive en primeur proportions. This estate just goes from strength to strength—and that's before its new winery has been constructed! One of the most significant changes has been opting to retain higher canopies, which means that the fruiting zone of rows planted along the slope are now shaded, preserving freshness." - William Kelley, The Wine Advocate (5/2023), Ratings: 94-95
"The 2022 Berliquet, 65% Merlot and 35% Cabernet Franc with a yield of 45 hl/ha, is aging in 44% new oak barrels. Deep garnet-purple in color, it flies out of the glass with notes of lilacs, red roses, and Sichuan pepper, leading to a core of redcurrant jelly, black raspberries, and wild blueberries plus a waft of truffles. The full-bodied palate is rich and opulent, with loads of bright red berry sparks and a lively backbone, finishing on a lingering mineral note. pH 3.55." - Lisa Perrotti-Brown, The Wine Independent (5/2023), Ratings: 93-95
"The 2022 Berliquet is super-concentrated, dark and ripe, but also without the forbidding tannins of the past. Succulent plum fruit, mocha, licorice and dried herbs are some of the many notes that grace this gorgeous Saint-Émilion. It will be interesting to see where the 2022 ends up post élevage. Today it is full-bodied and quite opulent. Tasted four times." - Antonio Galloni, Vinous (5/2023), Ratings: 91-93, Drink: 2028-2042
More Information

| | |
| --- | --- |
| Stock Status | Futures |
| Appellation | Saint-Emilion |
| Vintage | 2022 |
| Brand | Château Berliquet |
| Shipping Weight | 3.000000 |
We found other products you might like!