Château Margaux Year of The Tiger Collection
• Domaine: Château Margaux
• Appellation: Margaux
• Classification: First Growth, 1ère Grand Cru Classé
• Origin: Left Bank, Bordeaux, France
• Importer: Laguna Cellar
In Chinese Zodiac based on the lunar calendar, 2022 is the Year of the Tiger. To celebrate the upcoming Chinese New Year, Château Margaux created a special collection consisting of 3 vintages from the most recent 3 Years of the Tiger: 1986, 1998, and 2010. These 3 bottles will be coming straight out of the cellars of the chateau, with perfect provenance, and packaged in a custom-designed wood box, with a cover 3-D printed in relief letters.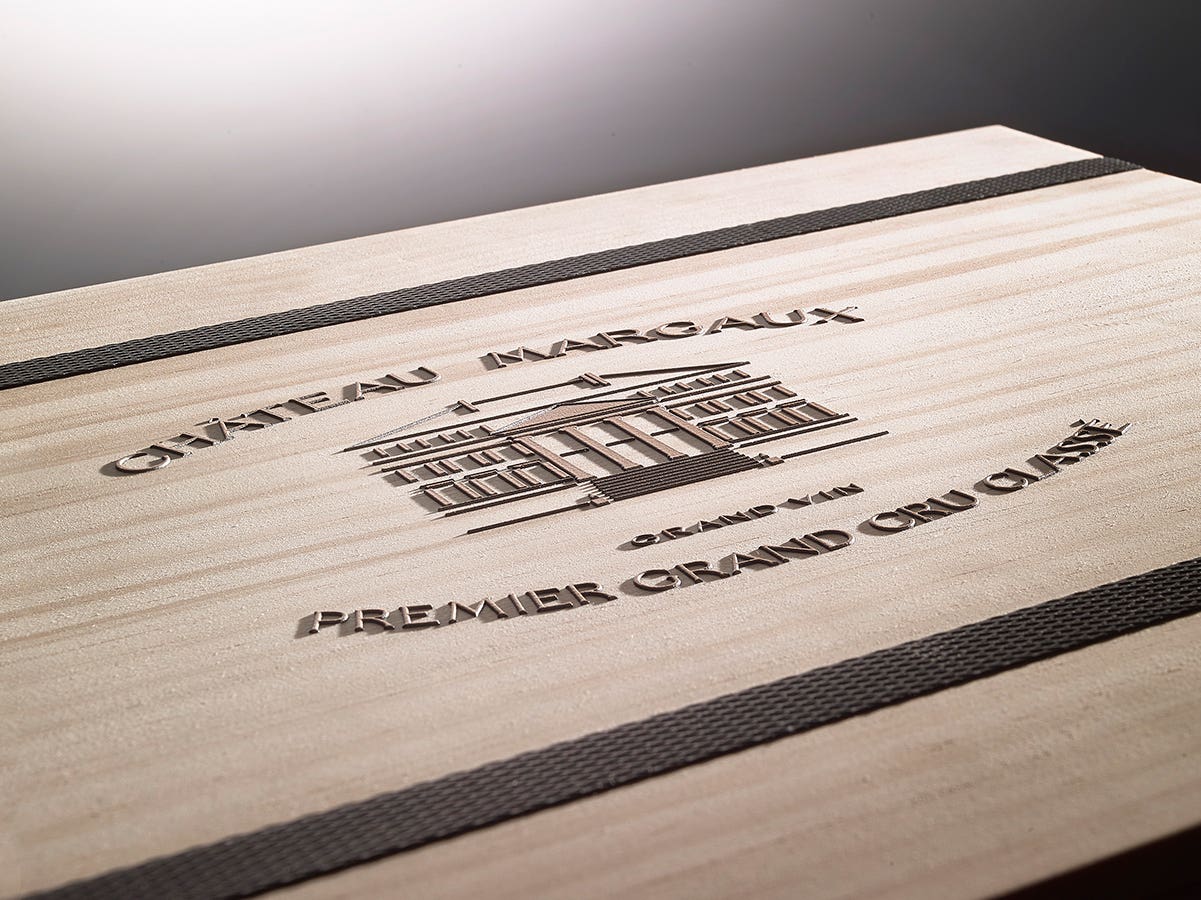 For those who care more about wine than zodiac signs, 2 of the 3 vintages featured by Château Margaux leap out of the box for attention: 1986 and 2010. Robert Parker Jr rated the 1986 vintage 98 points, calling it "a magnificent example of Chateau Margaux". 2010 was a landmark year in Bordeaux' recent history. It is a contender for the top vintage designation when enough time has passed. Robert Parker Jr. rated it 99 pints, recogning it as "another near-perfect wine that should age effortlessly for 30-40 years." What better way to taste these iconic vintages than from bottles that have never left the cellar at Château Margaux until now?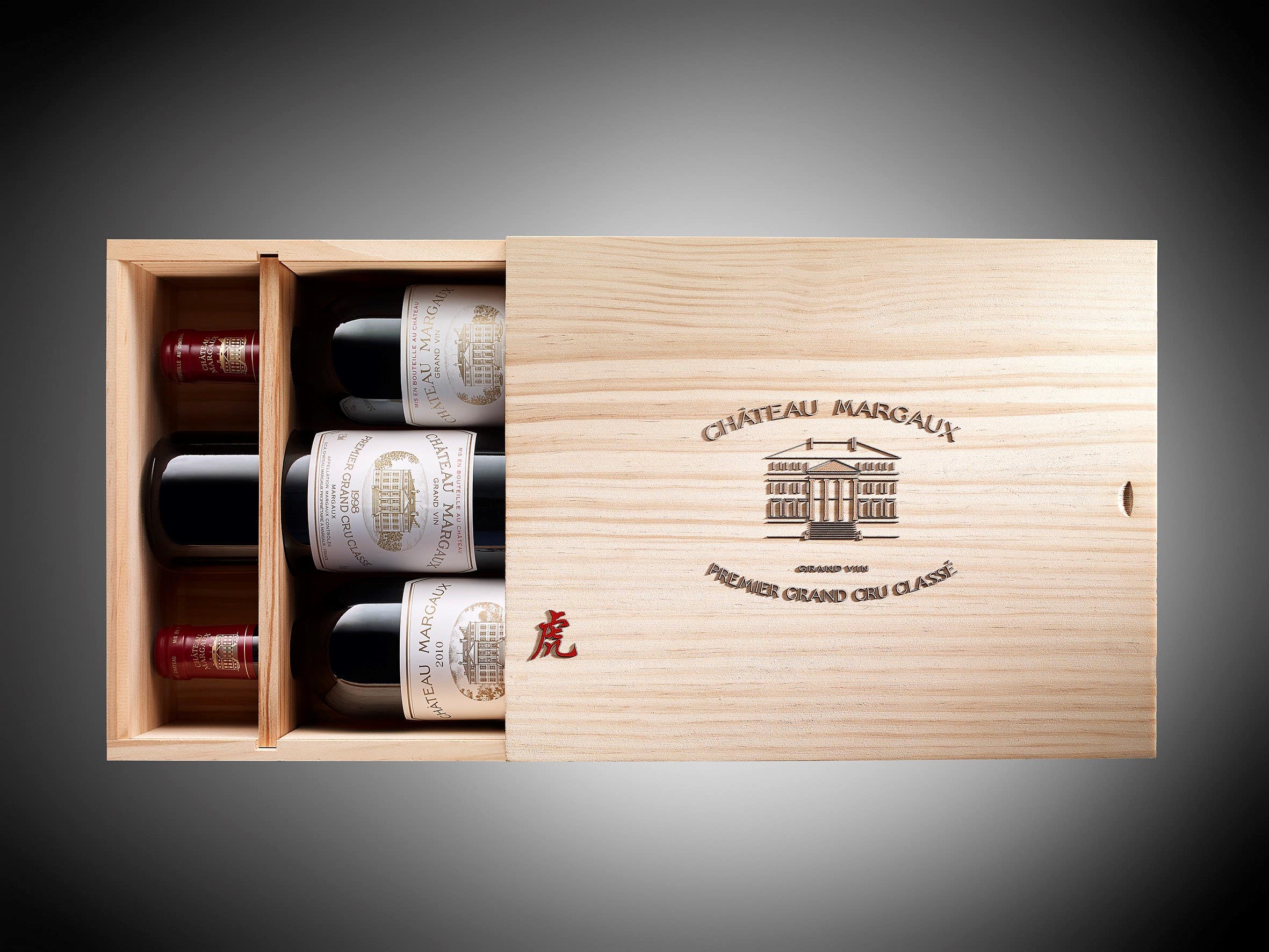 "The 2010 is a brilliant Chateau Margaux, as one might expect in this vintage. The percentage of Cabernet Sauvignon in the final blend hit 90%, the balance Merlot and Cabernet Franc, and only 38% of the crop made it into the Chateau Margaux. Paul Pontallier, the administrator, told me that this wine has even higher levels of tannin than some other extraordinary vintages such as 2005, 2000, 1996, etc. Deep purple, pure and intense, with floral notes, tremendous opulence and palate presence, this is a wine of considerable nobility. With loads of blueberry, black currant and violet-infused fruit and a heady alcohol level above 13.5% (although that looks modest compared to several other first growths, particularly Chateau Latour and Chateau Haut-Brion), its beautifully sweet texture, ripe tannin, abundant depth and profound finish all make for another near-perfect wine that should age effortlessly for 30-40 years." - Robert Parker Jr., The Wine Advocate (2/27/2013, Issue 205), Ratings: 99, Drink: 2013-2053
"The 1998 Margaux's color is a dense ruby/purple. The wine is tannic and austere, but elegant, with notes of asphalt, blackberries, acacia flowers, and sweet, toasty oak. Subtle, rich, nicely-textured, and medium-bodied, it is built for the long haul. Anticipated maturity: 2006-2030." - Robert Parker Jr., The Wine Advocate (4/22/2001, Issue 134), Ratings: 91, Drink: 2006-2030
"The 1986 Chateau Margaux is one of the dark horses of the vintage. It has an exquisite bouquet that is now fully mature, with a mixture of red and black fruit, violets, pastilles and hints of cold stone. It blossoms in the glass, gaining intensity all the time. The palate is medium-bodied with fine tannin, a more robust Margaux as you would expect given the vintage, clearly with firm backbone, more straight-laced than the 1985 or 1989. Yet there is wonderful delineation and focus here. If you seek strictness and classicism in a wine, then this is the place to come, plus there is superb mineralité and tension on the ferrous finish. Perhaps a little overlooked in recent years, the 1986 Margaux comes highly recommended for those who love the property. This is a wine finally coming of age. Tasted July 2016." - Neal Martin, The Wine Advocate (12/30/2016, Issue 228), Ratings: 97, Drink: 2016-2040
"A magnificent example of Chateau Margaux and one of the most tannic, backward Margauxs of the last 50 years, the 1986 continues to evolve at a glacial pace. The color is still a dense ruby/purple with just a hint of lightening at the rim. With several hours of aeration, the aromatics become striking, with notes of smoke, toast, creme de cassis, mineral, and white flowers. Very full-bodied, with high but sweet tannin, great purity, and a very masculine, full-bodied style, this wine should prove nearly immortal in terms of its aging potential. It is beginning to budge from its infantile stage and approach adolescence. Anticipated maturity: 2008-2050. Last tasted, 12/02." - Robert Parker Jr., Bordeaux (4th Edition), Ratings: 98, Drink: 2003-2050
More Information

| | |
| --- | --- |
| Stock Status | In Stock |
| Appellation | Margaux |
| Vintage | 1986 |
| Brand | Château Margaux |
| Shipping Weight | 12.000000 |
We found other products you might like!