敖云香格里拉 Ao Yun Shangri-La 2018
Special Price
$248.95
Average US Price
$302.00
In Stock
Usually ships in 2-5 days, weather permitting
• Domaine: Moët Hennessy Shangri-La
• Origin: Yunnan, China
• Varietals: 60% Cabernet Sauvignon, 19% Cabernet Franc, 10% Merlot, 7% Syrah, 4% Petit Verdot
"... velvety & fruity, elegant, complex ... "
Ao Yun is an ambitious project by LVMH to create a unique, world-class wine estate in an ideal but new environment. The famed Australian winemaker, Dr. Tony Jordan, was commissioned to find such a place. He found his way to the foothills of the Himalayas in Yunnan, near the legendary and remote villages of Shangri-La. There he found not only conditions that reminded him of Bordeaux but also the remnants of a wholly forgotten series of vineyards planted with Cabernet Sauvignon and Cabernet Franc which had been introduced by French missionaries in the 1800s. The weather station he implemented locally in 2010 has provided 12 years of weather data to show the Shangri-La climate is a hybrid one between Bordeaux and Napa in term of temperature/sun/rain depending on season.
Located at an altitude between 6890 and 8530 feet (2100 to 2600 meters, 500 meters of variation), Ao Yun's vineyards are spread out on both banks of the Mekong River. The mountainous region is spectacular, with unique vineyards from the valley floor to mountain high. Ao Yun leases 314 blocks, with 727 tiny sub-parcels identified, totaling 28 ha from 120 local families in 4 villages of the Upper Mekong Valley. There are different soil types and climates in each village due to different altitudes, sun exposure, wind exposure, landslide and river deposits. With such variety of soil and finely identified parcels, Ao Yun takes the Burgundy Approach to cultivate each parcel, as shown here in a map from Adong, one of the four villages producing grapes for Ao Yun: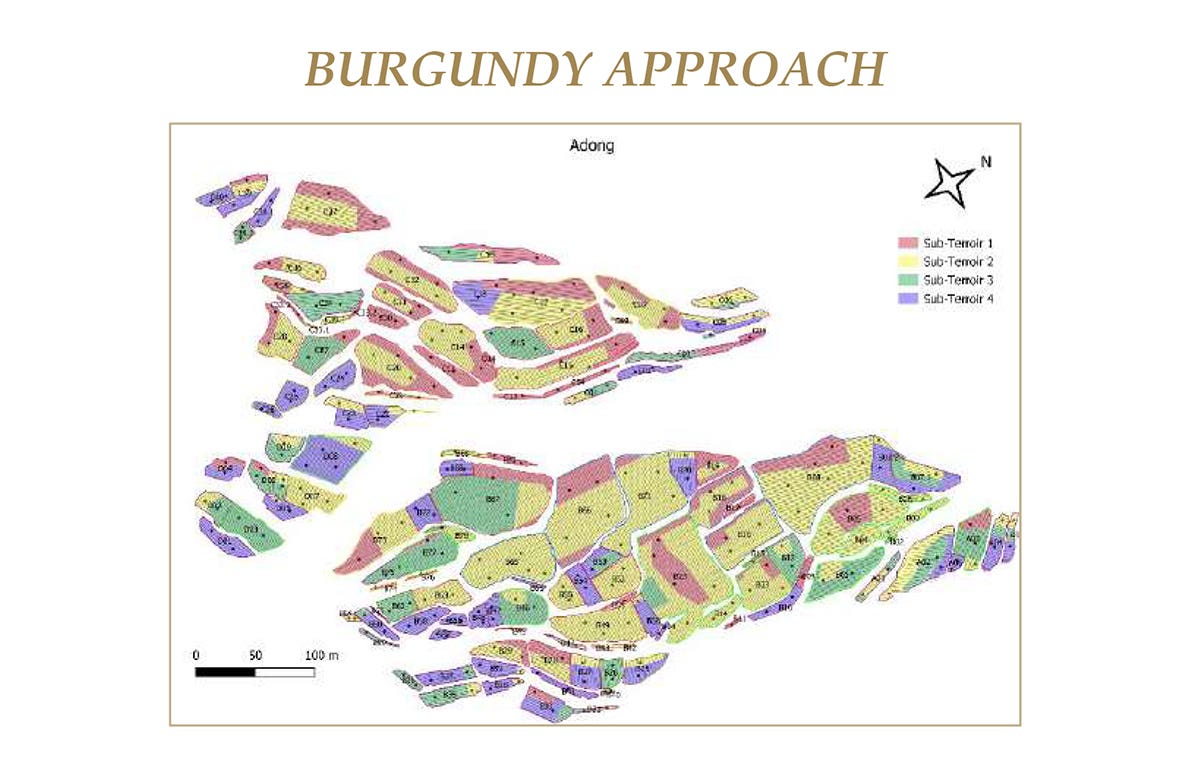 After harvesting and micro-vinification, the winemaker conducts blind tastings from each parcel/terroir, before using the Bordeaux art of blending to create the Ao Yun Grand Cru. In the true Bordeaux fashion, the blending is different from year to year.
In certain years, the wine from each individual village is bottled under its own name: Shuori (说日), Adong(阿东), Sinong(斯农), Xidang(西当).
Ao Yun(敖云)means "above the clouds." From the video presented by the estate, one can almost tell there is something weightless and ethereal about the place and the wine it produces.
Tasting Notes
"The nose is expressive of Himalayan freshness with purity, finesse, and complexity. Black fruit sorbet mixed with toasted bread, cold fireplace, tea leaves, thyme, coffee. Sweet and fresh. The texture in the mouth is also fine with dense but a fresh and silky texture with a balance between creaminess and tension. The finish with length and salinity is the signature of Ao Yun." - Maxence Dulou, Ao Yun Estate and Technical Director
"The 2018 Ao Yun is a blend of 60% Cabernet Sauvignon, 19% Cabernet Franc, 10% Merlot, 7% Syrah and 4% Petit Verdot. 2017 was the first vintage where Merlot was included in the blend, and the higher proportion in the 2018 vintage is partly a reflection of vintage conditions but also a sign of Ao Yun's increased interest in the variety (I saw new Merlot vines being established in an amphitheater-like vineyard in the village of Sinong in May 2021). The 2018 Ao Yun is very deep purple and very much in the emergent "Ao Yun style" showing lifted, perfumed Cabernet-dominated fruit, here with plenty of crushed blackberry, cassis and black cherry with ripe green bell pepper and other pyrazine notes and some toasted new oak with hints of smoke and clove. Full-bodied with that Ao Yun puissance of coating, fine-grained and chewy tannins, robust but well-integrated 14.5% alcohol and some lively acidity, especially in this cooler vintage (note also that, at this altitude, Ao Yun naturally comes in around pH 3.35-3.45). As such, the wine has an affinity with Mendoza Cabernet, at least structurally speaking. This is indeed much more of a "cooler vintage" expression rather than the more "solar" 2015, but do not think this equates to something like a cooler vintage in Bordeaux. There is abundant fruit achieved through rigorous selection and also picking at optimal ripeness aided by plenty of UV light (intense sunshine here). So, the 2018 has some similarity with the 2017 in terms of weather and fruit expression, and on this first tasting, albeit at high altitude at Ao Yun itself, quality is similar to the 2017 and 2015, but actually even better than those two vintages on this first showing. Note also that this is a baby of a wine that will need tasting again in the future. Supremely youthful, it would be worth waiting a year or so before broaching this. The 2018 will undoubtedly repay long-term cellaring." - Edward Ragg, The Wine Advocate (1/13/2022), Rating: 95
"I love the depth and complexity of the nose, which brings you down deeply into the wine, showing blackberry, ink, tar, earth, incense, cloves, and black licorice. Thyme, too. The purity of the fruit, including cassis, is the real thing. This is full-bodied, but remains so fresh and vertical on the palate. The tannins are so fine and integrated, producing a millefeuille-like layering of tannin and cool, blue fruit. Incredible wine. The greatest wine made in China so far. 60% cabernet sauvignon, 19% cabernet franc, 10% merlot, 7% syrah and 4% petit verdot. 26,000 bottles made. Drinkable now, but will be so much better in four or five years." James Suckling, (2/2022), Rating: 98
"Gorgeously seductive nose, this is rich and abundant, aromas bursting out the glass, smells sweet and spicy, five spice fragrance with sweet blackcurrant and black cherry aromas. Mouthcoating and invigorating on the palate, totally harmonious and balanced with the salinity and wet stone nuances coming through backed by ripe, but so well defined, fruit flavors. Such purity on both the nose and palate. This is seriously refined, aromatics are preserved, balancing power with excellent acidity, so you get these bright and energetic flavours but still with structure. Seductive but this also has a sense of classicism. Lovely saline elements and cooling touch at the end with all the flavours lingering long in the mouth. Will be interesting to see how it ages. Drinking Window 2029 - 2045" - Georgina Hindle, Decanter, Ratings: 96
"Polished, smooth and ripe tannins that have plenty of movement in them. Ao Yun has been a wine with confidence and personality since its first vintage of 2013, and here balances concentrated damson and black cherry fruits with fragrant black tea, mandarin peel and sage together with earthier smoked cumin and saffran spice. 2018 was a late harvest through to November 15 (beginning September 7) and ripening under cooler, dry skies in November has translated into drawn out sculpted flavours that reflect the mountain site, and low yields of 21hl/h. Initial ageing took place in 50% Chinese earthenware jars and 50% oak barrels for five months, then a further 10 months in 30% new oak barrels. The team introduced village crus in this year also, drawing them from the four villages where the vines are located, and keeping 54% of overall production for Ao Yun itself - just another clue to the ambitions at this briliant estate." - Jane Anson, Ratings: 95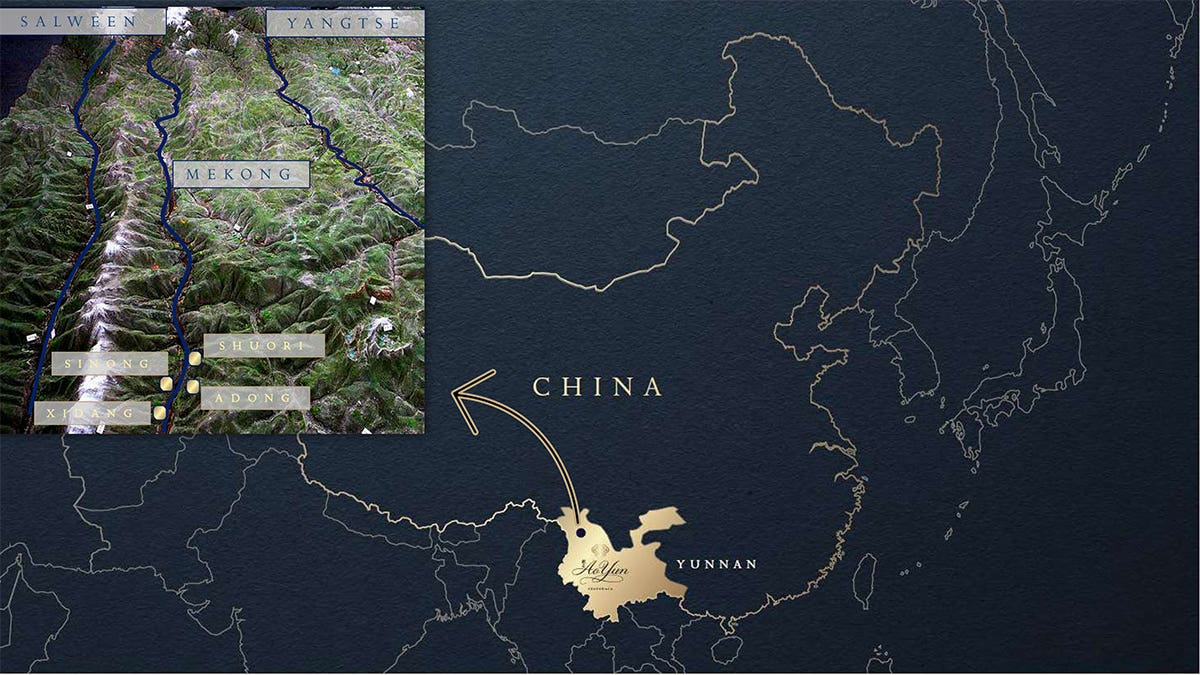 Footnotes for Wine Geeks
The team in charge of Ao Yun is led by French winemaker, Maxence Dulou. They practice a cousu main (tailor-made) vineyard approach to express the terroir. A few noticeable points:
Shoot accuracy for customized fruit thinning: instead of aiming for a yield target per hectare (common practice), MH Shangri-La has optimized quality down to a single shoot. Based on 35 terroirs and 5 vine types, the team only keeps 100 to 200g of grapes per shoot.
An accurate weather forecasting system: years of experimentation and newly adopted AI system to facilitate better decision making based on accurate weather forecast
Pure soils and fruit: The vineyards adopted European organic farming standards since 2013. To harvest the purest expression of terroir, the team included an unheard-of technique of rinsing the grapes twice while still hanging on the vine prior to harvest. This method ensures that any residue, even organic, is removed from grape skins.
More Information

| | |
| --- | --- |
| Stock Status | In Stock |
| Vintage | 2018 |
| Shipping Weight | 3.000000 |
We found other products you might like!